Resources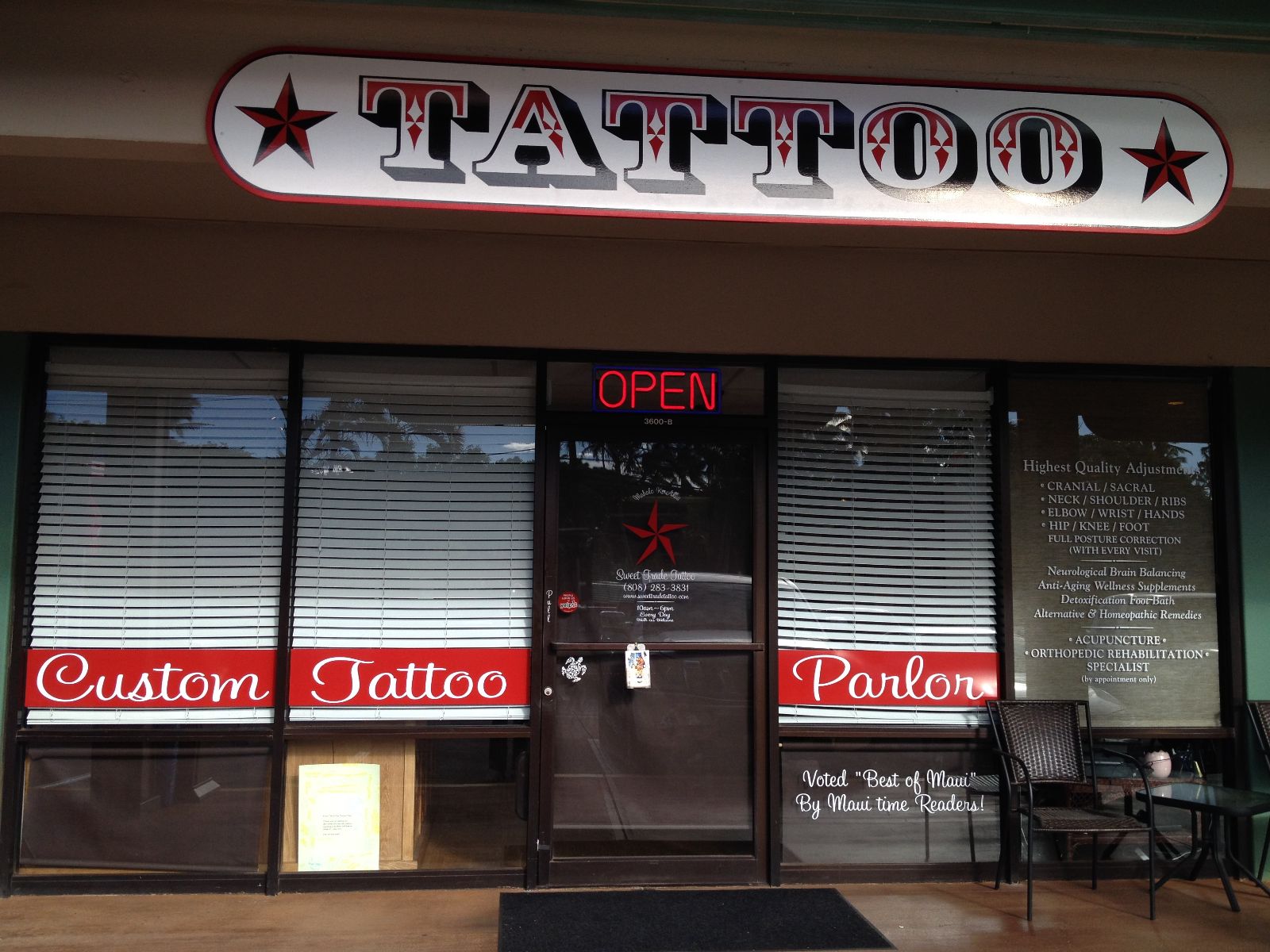 Google Reviews:
Sweet Trade Tattoo's Overall Google Rating:
Ashley Hathaway

November 2015
My Boyfriend and I researched and walked into sweet trade after landing in Maui and were pleased to meet Adam. He wad laid back but very passionate about what he does and our tattoos show that! We love them and have already got many comments on them! I cant wait to go back and add on!!!
amy cosseboom

July 2015
I wanted a very nontraditional challenging tattoo and needed an excellent artist to be able to pull it off. I found Trevor while visiting Maui. He stepped up to the challenge and did an amazing job! The experience was great and I couldn't be happier with tattoo. It is even better than I had hoped for. Trevor is truly a remarkable artist.
Craig Peters

June 2015
Wanted a tattoo while on our Maui leg of the May 2015 Honeymoon. I looked around online and found Trevor. Found a design I liked and gave it to him and he made a few minor changes. He was very easy to work with. Did a great job and really did outstanding work with the colors. It turned out better than I expected. Great job by Trevor! - Craig
Chris Rieger

April, 2015
Trevor was vary confident and helpful he explained everything in a way that was easy to understand. The tattoo turned out to better then I could of imagined I would recommend sweet trade to anyone. I may even have to fly to Maui to get more work done.
Kyle M.

December, 2014
Trevor has been tattooing me regularly for 10 years & I have no problems flying to Maui from Minneapolis to have him work on me. He's patient and thoughtful and a freaking brilliant artist. he has taken my ideas and always improved on them and of all my ink, his is the one that gets the most comments about - i refer everyone to Trevor.
Jason B.

August, 2014
Went to see Adam while on Maui. He came up with a great design and was a pleasure to work with. Upon completion it looked great as all tattoos should when freshly done. I wanted to wait to review until I healed and made sure that the work still looked as good as the day I got it. It does and I will definitely stop in for more work on my next trip.
Kenneth H.

September, 2014
I wanted to get some cover up work done but didn't know what I wanted. After talking to Trevor and looking through the books at the shop I settled on an idea that Trevor was able to draw in such a way that it buried my other tattoos. Not only is it a great and detailed tattoo but you can't tell there was anything there in the first place. Trevor is an incredibly creative artist and he listens well. He put together the tattoo from a conversation. Totally exceeded my expectations. I'm going back for work every time I return to Maui.
***** So it's four years later and Google won't let me write a new review, only edit the previous one. I'm on my third tattoo from Trevor at Sweet Trade and I get progressively happier with each visit. In my past experience with other artists, especially with my first tattoos, decades ago, it can be overwhelming to figure out exactly what you want and how to plan for the long term. Two of the three tattoos I've gotten from Trevor were cover up work for images that were both ill advised and didn't age well. My wife, who is not into tattoos, agrees with me that the new images are truly awesome in their own right. Also, as a nurse, she loves how sterile Sweet Trade is whenever she visits with me. What I enjoy most about Sweet Trade Tattoo, beyond the excellent work, is the process. It all starts with a conversation and, in my experience, those conversations have always lead to work that I am extraordinarily happy with. After almost thirty years of getting tattooed that level of collaboration is a new experience for me and I intend to make the most of it going forward.
RJ Gross

August, 2013
Wanted a tattoo before leaving Maui, checked out places online. Sweet trade was well rated and with good reason. Ian did my work and it is awesome!! Gave me exactly what I wanted and I am very pleased with the quality of the work. It was my first tattoo and Ian was very considerate. He also made sure everything was to my liking before he started. Could not be happier. Busy place, go ahead of time and make an appointment. It also gives them a chance to customize what u want. If I ever come back to Maui I will visit the shop again. Excellent reminder of what could be a once in a lifetime trip.
A Google User

May, 2012
I live here on Maui and wanted to get a large sleeve tattoo. Trevor has been nothing but awesome. It looks great and I would recommend him to anybody thinking about getting a tattoo here on Maui.
A Google User

October 2011
I called Trevor to get a tattoo before I headed back to Missouri. I wanted to something to remember(besides my amazing wedding) so I found a picture of plumeria flowers and gave it to Trevor to replicate. I came in and he dove right in and gave me a great tattoo on my lower right hip. Everything was clean, relaxed and Trevor was amazing! I love my tattoo and if I were to get another one I'd come back to Sweet Trade. Very professional, clean and Trevor was easy to visit with. Anyone wanting a tattoo while in Maui I highly recommend Trevor!
Yelp! Reviews:
Sweet Trade Tattoo's Overall Yelp! Rating:

Piyaporn T.

12/16/2016
I love this place this is my 2 time of tattoo from here,Adam he really good artist,he has done a really awesome work on my tattoo I'm happy about that i will come back again in 2018 to do more.Thanks Adam.
Cord C.

11/30/2016
Super stoked on my first tattoo from Adam. Helped me design the whole thing from scratch. Definitely will be back soon.

Miss W.

11/30/2016
I am so thrilled with the tattoo I got from Adam. I haven't gotten a tattoo in a very long time, because I am really picky about only getting meaningful art. I went in on several occasions, and every time Adam was always super happy to help. He really listened to my ideas and looked at all my countless pictures I brought in. He was also honest and respectful about sharing his professional advice about how things would look, etc. I never felt rushed, and always felt respected. On top of that, it is clear he loves where he lives and has real aloha spirit. In the end, he created a real work of art that I feel suits me perfectly. I've gotten so many compliments and can't stop looking at it. Would highly recommend this shop and artist.

Seamus M.

11/28/2016
My experience with Sweet Trade and Adam in particular have been exceptional. I felt engaged by an Artist in the planning of the piece I had done. From beginning to end the entire process was both professional and personal. It was my first tattoo and Adam helped me understand both the artistic and mechanical aspects of tattooing, as a super nerd nothing could have been better. All in all the atmosphere of the shop and the guys is perfect, its warm and mellow with an occasion bizarre breeze, which pretty much sums up Maui...and who doesn't want to be walking around with a piece of that forever?

Josh S.

11/29/2016
I got my very first tattoo done by Adam and I could not have asked for a better first experience. We had talked for almost a year just to get the details right and to make sure it was what I really wanted on my body. The whole time we were discussing he taught me a lot about the tattooing process and what I should expect. He is very knowledgeable on many different types of styles. He takes the time to research and study the type and style as well as the meaning behind everything he puts into a tattoo. He makes you really excited about the whole experience. He is someone you can truly trust and rely on to get what you want done. The experience was quite relaxing, he took his time but it seemed to go by fast. I love the way it turned out and have even been complimented several times by friends as well as strangers, all wanting to know where I got it done. I highly recommend getting one done by Adam at Sweet Trade as he has the experience and knowledge to give you what you really want. I trust him enough to recommend my friends to him, I had one of my close friends come with me and ended up getting one done from him as well. They talked for a few hours about the details and style my buddy wanted and that tattoo turned out excellent as well. Highly recommend to anyone whether it is your first or your hundredth tattoo.

Christopher B.

11/17/2016
I basically had the best dumb luck finding Sweet Trade. Walked in, saw some of Adam's work, and started a solid conversation. After spending 30+ minutes of talking there was another 30+ minutes of design work and my fish hook was ready for my approval.
This was the most expensive one hour of ink time I've ever paid for -- by a country mile -- but I feel it was money well spent. Adam sketched and layed out a full blown start to finish explaination of how it all came together and why each bit was placed. It isn't just a random collection of designs, it's a short story about my life. Had I gone anywhere else, sure I might have loved another design, but I truly don't believe I'd have come away with such an understanding and appreciation for the symbols. If you want an [insert common template style] tattoo, look elsewhere. If you want a tattoo that not only speaks to you, but for you, call Adam.
John B.

10/29/2016
There are tattoo palor's on every block of this small island but if you are a person who is looking for more than just some ink on your skin Adam is the man to see. His wisdom and ability to paint a portrait of your imagination will have you not only leaving this island with a smile but a timeless memory of this magical place.

Aj P.

10/28/2016
Okay, so where do I start? This is the second time I'm posting a review on this shop. I took down the first negative review to give them the opportunity to make things right. Sadly, after they dragged me along for a month, we did not come to a resolution. Like I said before, I'm going to be completely fair. The good and the bad. If you're in the market for a quick touristy tattoo of something simple to remember your Maui vacation, I think it's fine for that. However, if you are like me and were looking for complex French Polynesian art, avoid this shop. To be fair, avoid Adam. I can't speak for the rest of the artists. But the management turned me off to the shop completely as I will explain.
I have several large tattoos which I had done freehand years ago after several days of speaking to the artists and getting on the same page. Based on my previously great experiences, it was my mistake to fall for the lines Adam sold me of how well versed he was in Polynesian style tattoo. He ensured me he knew the style well and would do a good job.
Well, in all fairness, the only good part of this tattoo was his physical application of it. It healed fast and well. The art however, which unfortunately is the most important aspect, left me shaking my head as soon as I got back to the hotel and took a good hard look at his work, studying the detail. To be exact, I'm unhappy with the bottom portion of the tattoo as the final product did not match the stencil he showed me.
Adam was a nice guy, but difficult to work with and very cocky, apparently beyond his abilities in this form of art. I overlooked it when he would make statemens like, " I'll take your money" and repeatedly saying, "I have no ego." I took it as confidence because he was as good as he claimed.
He originally quoted me 550. Well, that's a lot of money. I should have listened to my gut instinct when I asked if he would do it for 500 and he responded with, "Ok, but I will only give you 500 worth of tattoo." Does this statement mean the extra 50 bucks is the difference between him putting effort into it or not as much? You tell me.
My mistake and I paid for it. Guess I should've spend 50 more.
According to what he told me, Adam's method is to work on your piece the night before the tattoo is scheduled to happen. I asked him if I can come in a day earlier to see what he has done and talk it over. He told me not to since he won't have anything to show me. This leaves no time to digest the art and no time to have him make viable changes if need be. This is totally my fault for not cancelling and falling for his reassurance.
On the day of the tattoo, he showed me 1/2 side of a stencil, partially filled in. Something a decent amateur could have drawn in one hour. He told me he can not do freehand and I respect his honesty. He gave me no time to build trust in him to allow that anyway. So, the end solution is a stencil which should show the customer exactly what he is getting. Not partly filled in and the rest, we'll see how it turns out when it's done. At times, his body language and demeanor lead me to feel he was annoyed when I questioned aspects of the art he drew.
He applied the stencil, and during the actual application of the tattoo, colored in parts which were not colored in on the original he showed me. This is my chief complaint. It ended up forming what looks like a face with eyes and horns. Not just to me, but everyone who has seen it. Much like a devil or bug face with horns. I feel he as an artist should have known when you make colored circles, it will look like a face to the human eye. But that's where experience would have come in.
I tried to reason with the manager (Adam's wife) and asked for a partial refund to show they, as a professional business, cared about an unhappy customer and take some responsibility for the work they put out. I felt this might make the pain a little less since I have to spend more money to fix this. It would have shown me some good faith. Well, they refused and told me the tattoo is very nice. Glad they like it.
It's fine though, I have an appointment with a real Polynesian artist in L.A. to fix what Adam put on me. Hope the $150 partial refund I asked for was worth me getting on here and telling my experience.
In closing, I know many of you read Yelp and social media reviews before choosing a shop. I can not attest for the other artists in this shop. Just my experience with Adam and the management.
I'm sure as they did on my last review, they'll respond against me and call me a liar, and that I was happy when I walked out, etc.
Please do your homework on the artist and use Adam at your own risk my friends.
Wow. Just wow. I'm going to be totally honest in my response to this. Let me give you an analogy so that it might be easier for you to understand...
If we were a restaurant, this client came in and order a steak, medium well, with potatoes and green beans. The steak was presented, medium well, with potatoes and green beans. The client decided they wanted broccoli instead. Great, no problem. We made the change, and brought the client a steak, medium well, with potatoes and broccoli. The client ate the entire meal, commented on how much they enjoyed it, then left. Long after leaving, the client decided that they don't like the way broccoli tastes with steak and mashed potatoes. That's fine, but there's not really anything we can do about it after the client ate everything, commented on how much they liked it, and left our establishment.

After dealing with this client for several weeks over email and trying to explain simple facts, this is what I have left to say...
Artists all over the world use stencils to ensure that the tattoo they are doing looks as good as possible. If you ask to change something about the design, that's not a problem, we will most definitely do that for you. But coming back to us after and saying that you no longer like what you got because of the changes you requested is ridiculous. Our artists know their craft very well and know what designs look good together and which ones do not. If you want to change the composition of a design, even against an artist's recommendation, that's a decision you have to live with. Had the client discussed this with us before leaving the shop or even before leaving the island, we could have had the artist, or even the owner (if the client was no longer happy with the artist) easily adjust the tattoo so that its final look was different than that of what he was unhappy with.
After explaining this several times in several different ways to the client, we were basically told that we had to give a refund or that he would give us bad reviews all over the internet. He was informed that we would respond accordingly to these reviews. Customer service is important to us, and we do almost anything in our power to ensure our clients are happy with their entire experience. But we will not be "held hostage" by someone that decided to have a hissy fit after the fact. The reviewer even commented on how well the tattoo was put into the skin and how well it healed. He has edited his review several times already, changing little bits of his story. He tried to blackmail us for a refund that he does not deserve. We will not be a party to that.

You are an adult, take responsibility for the decisions you have made.

Aaron P.

9/4/2016
Adam did some custom art for me toward the end of our vacation in Maui. I could not be happier with how it turned out! Adam was such a great dude to chat with also. He radiates a love for what he does which is apparent in his work. If you're looking for an awesome tattoo by a true artist and all around awesome human that loves his craft Adam is your guy!
Side note: I'm a professional graphic designer so I know the good stuff when I find it. Go to Sweet Trade now!
Tammy M.

8/31/2016
Got my hibiscus flowers done here this week while we were on family vacation Adam did a great job...It was my first tattoo...wouldn't get another anywhere else.

Steven I.

8/31/2016
My artist was great . Did a great job on my tattoo and my wife's first tattoo. Will definitely be having another tattoo done next year by him when we go back. Recommend anyone to go see them.

Ellen H.

8/19/2016
On our daughters 21st and my husband and my anniversary we wanted our Maui trip inked forever. Adam had everything drawn up and ready for us the next day. 3 tattoos 0 complaints. We will be back next year, and will be stopping in for some new art. Unless we can talk him off the island and get him to come to our casinos!!! Thanks again Adam!!

Jessica H.

8/16/2016
Great customer service. Very helpful. Went this morning wanting a symbol that didn't mean what I thought. Adam thankful knows what he's talking about and help me pick something I love.

Greg L.

8/16/2016
Outstanding shop !!! My wife wanted a tattoo the commemorate our first trip to Maui and our 30 year anniversary, we looked at several shops but chose Sweet Trade do to its professionalism. Adam was great and talked in length with my wife about what she was looking for and explained how he could combine everything she wanted, the tattoo came out great my wife was very happy. We recommend this shop highly and we will be back on our next Maui trip.

Shari A.

8/14/2016
We just returned from our annual trip to Maui and from me getting my fourth tattoo from Adam. I went to check out this shop two years ago and was impressed with the cleanliness and how friendly the staff was. I was a "drop in" but was accommodated with a smile. This was my first tattoo so very nervous but felt totally at ease with Adam. I already knew what I wanted. I came back the next summer and eager for my new tattoo. Again Adam did his magic with a more complicated tat. Loved it of course and added to my first tattoo. This year I added two. I let him do his original design and artistry and was not disappointed at all. I brought a friend to get her first tattoo and loves it. I have people back home ask where I got them done and are disappointed to learn Adam wasn't local. Already thinking of my fifth design. I was 53 when I got the first tattoo so you're never too old. Mahalo

Patricia S.

8/12/2016
Adam was an absolute pleasure! He was so personable and friendly, definitely one of the most enjoyable tattoo experiences my husband and I have ever had. If you're visiting in the Lahaina area do yourself a favor and come here! We are so happy with our experience and our permanent souvenirs. Next time we come back to Maui we will definitely pay another visit to Adam and this location!
Sarah E.

8/5/2016
My husband and I are from Seattle and have a strong appreciation for art and tattoos as we have had some of the greatest experiences with artists in our city. While celebrating our honeymoon in Maui we decided to get our initials tattooed on our ring fingers along with another small matching symbolic piece on our ankles. We stopped in and met Adam to see if he had any time to draw something up before we left in 4 days, along with the time. Immediately we vibed well with him, local guy who really loves where he lives and has a great appreciation for art and his business! Turns out he had time the day before we left, so we left him With our ideas and showed up 4 days later for our appointments excited to get some new ink. He showed us the drawing and we both were into it, I went first and got my husbands Initial on my finger followed by my ankle tattoo. He went second, and when he was finished we held our legs up to each other only come to realize that Adam decided to change the shading placement last minute on my husband without asking/telling him. While I can appreciate his desire to make it look better than the shading he did on mine (which looks very odd in placement) we were really bummed that we didn't get the matching tattoos we agreed on. I am an artist myself, my clients trust that I wouldn't make any last minute decisions on them without their permission. I would never last minute change something on someone's hair let alone a tattoo that will be there for a lifetime. 20 years or 5 years in the biz- doesn't matter...listening is key to giving your clients what they love and will continue to rave about to their friends. We love our ring tattoos, but will have to get our other tats worked on by an artist here at home. Sorry for the sub par review I really wanted to rave about our tattoos but sadly I can't.

Jeremy K.

7/28/2016
A great experience; kind, courteous, educational, and a great artist! Thank you! My wife and I will forever remember this fantastic moment! Kindness and Happiness!

Mike B.

6/21/2016
I decided that I wanted a tattoo to remember my Maui Vacation. Sweet Trade Tattoo was close by. Initially i had trepidation because you really need to get to know your tattoo guy. Walking in to a strange place is hard, but from the instant I walked in Adam was welcoming and helpful. I described what I wanted and luckily he had the time to fit me that very instant! While this wasn't my first tattoo, he was by far the best experience I have had. He was very zen about the whole experience and taught me how to breathe through the process. His art is amazing and while I asked for something common, he made it custom which make the tattoo purely one of a kind. I will come back the next time I am in Maui! If you want a tattoo, Adam will do you right

Aaron B.

6/1/2016
My girlfriend and I went into Sweet Trade looking to get a couple small tiki tattoos. Adam was incredibly friendly and professional the moment we came in the shop. He pulled out a book of his tiki sketches and I quickly found an american traditional design I loved. My girlfriend went with a graphic style tiki I designed prior. Adam did an outstanding job on both, and we are in love with our tikis! Adam's stellar communication skills and artistic expertise made it easy to walk in with a rough idea and walk out with a top-notch tattoo. The shop is very clean and comfortable, and we are both thrilled to have a "go-to-guy" for tattoos when visiting our favorite island. I highly recommend Sweet Trade Tattoo for their incredible artists and exceptional customer service!

Mike L.

4/30/2016
I drove by this shop looking for some grub and saw this place so I went in and checked it out and met ADAM the tattoo artist and hit it off with him immediately and booked a tattoo the following day..I've had 2 tattoos prior and ADAM is by far the best I've encountered, not only is he a master at what he does he is a person who I would love to have as a friend if I lived here.. His passion for what he does by far exceeds anyone I've met in business and it shows in his work..This dude loves tattooing and loves the Mother Earth and life..Wishing there was 10 stars I can give him, Mahalo Adam..

Joseph K.

4/22/2016
Great place to get a first tattoo! The Artist, Adam, is great and humorous! Gave him some ideas and he took it the rest of the way and came up with a great tattoo that has a lot of meaning behind it! Definitely would come back and get another one!
AAron M.

4/16/2016
Sweet Trade is an awesome little shop in Honokowai, away from all the craziness and inflation of Front Street in Lahaina Town. It's located in a small shopping center in between Kaanapali and Napili areas. Super clean shop with super friendly and talented artists, go get tattooed here!
Cody H.

2/10/2016
My wife and I went in to get some work done before we went back home and the experience here was simply amazing. Best tattoos we have and I have 6 my wife has 5. So if your visiting or if your local and you need ink this is the place to go. Next time we're in Maui well be getting more ink !!

Rudy P.

1/2/2016
Wow just spent some time with Trevor chatting about the art of tattoo and also the tattoo that he will do for me. It'll be a while but it gives me something to look forward to! Nice clean shop. Total positive vibes.
Stacy G.

11/26/2015
Both my husband and myself have been tattooed by Adam on two occasions. Both of us could not be happier with his work!! We love his friendly, laid back attitude along with his professionalism and artistic talent. Definitely recommend Sweet Trade if you are looking to get a tattoo while visiting Maui.
Ashley N.

11/15/2015
My boyfriend and I came to Sweet trade for a Traditional Polynesian tattoo and Adam put out two amazing tattoos for us. They turned out amazing! We get tons of comments on them already! cant wait to go back and add on later!!!!
Jay M.

10/22/2015
I got a Poly style Humuhumunukunukuapua'a fish on my ankle after having a consult with Adam 2 days after I arrived for vacation. Adam asked me a lot of questions about what was important in my life so they could incorporate it into the design. Adam conveyed all that information to Trevor who designed the coolest Humuhumu fish ever. Trevor did a great job with the actual tattoo that I got the day before I left to come home. Interesting guy...Everyone there (Trevor, Adam & Athena) clearly cares about getting what you want right. They are really good about asking the right questions. Great experience...
Ryan F.

9/16/2015
I got a tattoo last year from Trevor. The entire experience was flawless. He tattooed my dad the day previously. The shop is easy to get to and very clean.
Trevor was great. Super friendly, helpful, and extremely talented. I have a few tattoos but the one he did is, dare I say, a favorite. My only wish is that I was able to get to Maui more often. I can't wait to go back and get another piece done.
Jenn O.

8/30/2015
Awesome place. Nice and clean, super friendly. Tattoo was exactly what I wanted and then some! If you're in the area and looking for a tattoo artist, this is definitely the place to go!!!
Amy C.

8/18/2015
I absolutely love my tattoo. Its fully healed now and the colors really pop. Trevor is an amazing versatile artist. I wanted a challenging non traditional design and Trevor really came through. I am impressed and so happy. I hope to make it back someday.
Ty M.

7/11/2015
Once those doors open everyone greets you and gives you a really rad vibe. I got my very first tattoo here, and I was very pleased of how it turned out. The artists here are undoubtedly passionate and are creative and very open minded, especially if you're gonna get a custom. With beautiful inks, colors, and shades, this place is where the ink is.
Johny D.

7/8/2015
Went in looking to get my first tattoo and was not disappointed. The service provided by the people there was top notch. Trevor was my artist and he did an awesome job with what I wanted, he's very knowledgeable in all things tattoo related. Will definitely be going back in the future, highly recommended.
Laura R.

5/21/2015
3 1/2 stars is bs! The shop is clean. The prices are fair. And the artists are just that... artists. I met with Trevor yesterday - walked in after lunch next door (which I also recommend). We talked for a while about what I was looking for and why. I told him a bit about my life and he started googling and sketching. I made an appointment and left a small deposit. But I had a nagging doubt about the general shape, and woke up with something a little different running through my mind. Ate some tasty local breakfast then went in to share my new vision. He reworked the design to perfectly capture the essence of what I was looking for - a symbol of my blessed life. Lucky me indeed!
Brad J.

4/19/2015
Trevor is a fantastic artist. Very steady hand. Upper professional. Highly recommend this shop. Best possible tattoo experience on Maui! True story
Cynthia O.

4/2/2015
Adam has an attitude. I wound up walking out and leaving my $60.00 deposit. I don't even feel that bad about the money, I feel luck to have walked before any permanent damage was done. Always bragging about his great skills, I did not see any artistic ability. Just an ability to scam tourists out of holiday dollars.
After initially booking the appointment, which does include a non-refundable deposit, the reviewer returned to the shop multiple times to discuss and change their tattoo design idea. Adam adjusted the tattoo design and rescheduled the appointment each time to accommodate the reviewer. This did not strike us as an indication of dissatisfaction with the artist's ability.
Sierra H.

2/21/2015
I decided that while I was vacationing on Maui I would get a memorial tattoo for my best friend. I did a lot of research and found Sweet Trade Tattoo. I chose the artist according to my tattoo. I decided on getting a floral so I went with Adam. The shop is clean and has a very relaxed atmosphere. It made me feel comfortable which was a good thing as getting a tattoo is not the best feeling in the world. I gave Adam the general idea of what I wanted and gave him the liberty to draw something up off of only a general idea. What he came back with was amazing and absolutely perfect in every way. The size and placement of my tattoo are wonderful. My body does not react very well to needles so I told Adam. He was very mindful of this while he was doing my tattoo. This is the largest single tattoo I have so that was very much appreciated.
The tattoo itself turned out to be absolutely amazing!! I get complements all the time on how beautiful it is and how bright the colors are. I am so glad I decided to go to Sweet Trade Tattoo to memorialize my best friend in such a way that every one will see and enjoy, though surely not as much as I enjoy it!!!
Jeff L.

2/20/2015
I got a Polynesian turtle my last day of vacation in FEB. Not only did it turn out fantastic, but Trevor took everything I said that was important to me and included it in the turtle via Polynesian symbols. I was very impressed with his knowledge and skill and will definitely return on my next visit to Maui. Shop was super clean and comfortable, big fan.
Brad B.

1/31/2015
My first tattoo experience was great at sweet trade tattoo. Trevor designed a beautiful tribal tattoo for me and it looks fantastic!
Jan D.

1/27/2015
Trevor was kind and sweet. Totally accommodating and improved my design after a conversation. He is a skilled and thoughtful artist. Would definitely have him do more work next time I am in Maui. Highly recommend!
Kevin S.

1/26/2015
These guys are pros. Besides having an immaculately clean shop, they are as advertised - 100% custom. Their passion and styles shine through. Trevor tattooed me, but Adam helped guide me to where I needed to go. Killer work, killer guys, changed me forever.
C A.

1/26/2015
My wife who said she would never get a tattoo surprised me in Hawaii when I suggested getting some matching jewelry to remember our trip and she said I was thinking of getting a tattoo. So when we were in Maui and getting some lunch there was Sweet trade tattoo right next door . While eating I read the great reviews and decided we would check it out .(they were closed) The next day we went there and Adam was there we explained what we wanted and he was very helpful and suggested some ideas to go along with our tattoos. We gave him an a drawing and set up an appointment. When we went in Trevor the owner had our drawing all cleaned up and it looked really good. Trevor was very patient and wanted to make sure the placement was perfect it took my wife about 3 or 4 times to get it just right on the back of her shoulder we didn't feel rushed at all. The whole experience was great and the tattoos came out really nice he even fixed another tattoo on me at no charge. I highly recommend Trevor and hopefully we will get another one the next time in Maui.
Erin P.

11/14/2014
I could not leave Maui without getting a new tat to remind me of this awesome trip! Adam and his wife were so hospitable, friendly and fun to talk with! Adam made the pain bearable by talking through the whole process about Hawaii and just life in general, totally cool and down to earth dude that loves life and his work with a passion that shows in his tattoos! I HIGHLY recommend and will recommend again and again!!
Jennifer W.

10/13/2014
Went in with my husband and daughter just to get a feel for the place and to look at some artwork. My daughter wanted a tattoo so we were shopping around. My husband and I have tattoos but this was going to be my daughter's first. Adam greeted us and spent a lot of his morning speaking with us and coming up with ideas. He reminded my husband and I of our current tattooer and we just loved that. Very welcoming and down to earth and listened to our ideas and worked with me even though I didn't have my mind set on a tattoo just yet. I thank him for taking the time to work with me!! In the end Adam had a beautiful piece of art for the both of us!! Adam did some poly work for my daughter and I & we are very happy with our tattoos. We got them last month in Sept. Trevor tattooed me so thanks to him for getting me in at the same time as my daughter and tattooing me!! He did a great job, and also was very welcoming and even talked stories with me!! It was a great experience!! I wouldn't hesitate to recommend them. We visit our family in Maui every year and We will definitely be back again next year for our 2nd tattoos together. Check them out!!! Mahaol nui loa, Jen
Nicole S.

9/1/2014
My husband and I were on vacation in Maui, and our "thing" is to get tattoos wherever we travel. We had researched some shops on Maui before our vacation, and were drawn to Sweet Trade Tattoo. My husband has many tattoos, but I only had 1 other small tattoo, and my 1st experience was less than stellar. At Sweet Trade, I was pretty nervous for my 2nd tattoo, but Trevor & Adam made me feel extremely comfortable and welcome. They took the time to talk to us and get to know us a little before designing our next tattoo. The shop is extremely clean and they have tons of artwork to browse, which helped me solidify my design. I was very comfortable and relaxed through the whole process. Trevor & Adam are so easy-going and personable. My husband got a 1/2 sleeve Polynesian design and I got a hibiscus flower and sea turtle with filigree. Both of our tattoos look amazing and we both receive so many compliments back on the mainland! We are so happy with Sweet Trade-we will definitely be back! I highly recommend Sweet Trade for anyone getting their 1st tattoo, and my husband will highly recommend ST for anyone looking to get a great tattoo on Maui. Sweet Trade is comfortable, clean, and professional. Mahalo, Sweet Trade!
M Dane S.

8/23/2014
Trevor was a top notch artist. There is one negative review on here and thankfully I didn't take it to heart. Trevor drew up an awesome flower and blew it out in only 2 hours. Gave me me a very fair price too! These guys are very professional and I would definitely come back for more work. Maui is paradise.
Bevi K.

6/27/2014
It's been a few years since this happened, but its still a crystal clear memory. I was staying across the street from Sweet Trade while on vacation. I had been mulling over the idea of getting a tattoo (my first one) for a long time, and on a evening walk my husband and I decided to go in. Sadie was there and greeted us and was just great about explaining the process. I went over a few ideas with her and she said she'd have a design by the next morning. I met with her in the morning and she had a cute honu design ready. She was great about making me feel comfortable and the shop was very clean. Not some dingy place I envisioned most tattoo shops to be. We chatted throughout the entire time she was doing it, which made it quick. It was a awesome first experience and I will have a souvenir from Hawaii with me for life.
Kevin B.

3/30/2014
I saw this place where I was staying across the street. I loved my time in Maui and wanted to take something home with me that would last forever! So why not a tattoo? I went in and met with a gentleman named Adam. He greeted me with open arms and asked me what he could do for me. I told him kind of what I wanted and where I wanted it. We came up with something and he asked me a couple of more questions about myself,